Next Stage Theatre Company is celebrating 25 years of producing highly-acclaimed, award-winning productions of 20th and 21st Century plays. Founded in Bath in 1994, and now resident at The Mission Theatre - the performing space created by the company and opened in 2005 - Next Stage has over 50 adult members and over 40 Youth members. All members of the company are dedicated to working as a versatile team, with actors regularly taking on production tasks. Next Stage Theatre Company is non-professional but delivers to a professional standard.
Key attributes of the company are:
Innovative and challenging productions: see our past shows.

Up to 10 public performances each year, with opportunities to act, direct, or help behind the scenes.

No auditions and no membership fees.

Our own dedicated 100 - 150 seater, versatile performance space - The Mission Theatre - enabling the company to frequently produce plays in-the-round.

Regular collaboration on productions between Next Stage Theatre Company and Next Stage Youth.

Biennial tours to the Minack open-air Theatre on the cliffs at Porthcurno, Cornwall.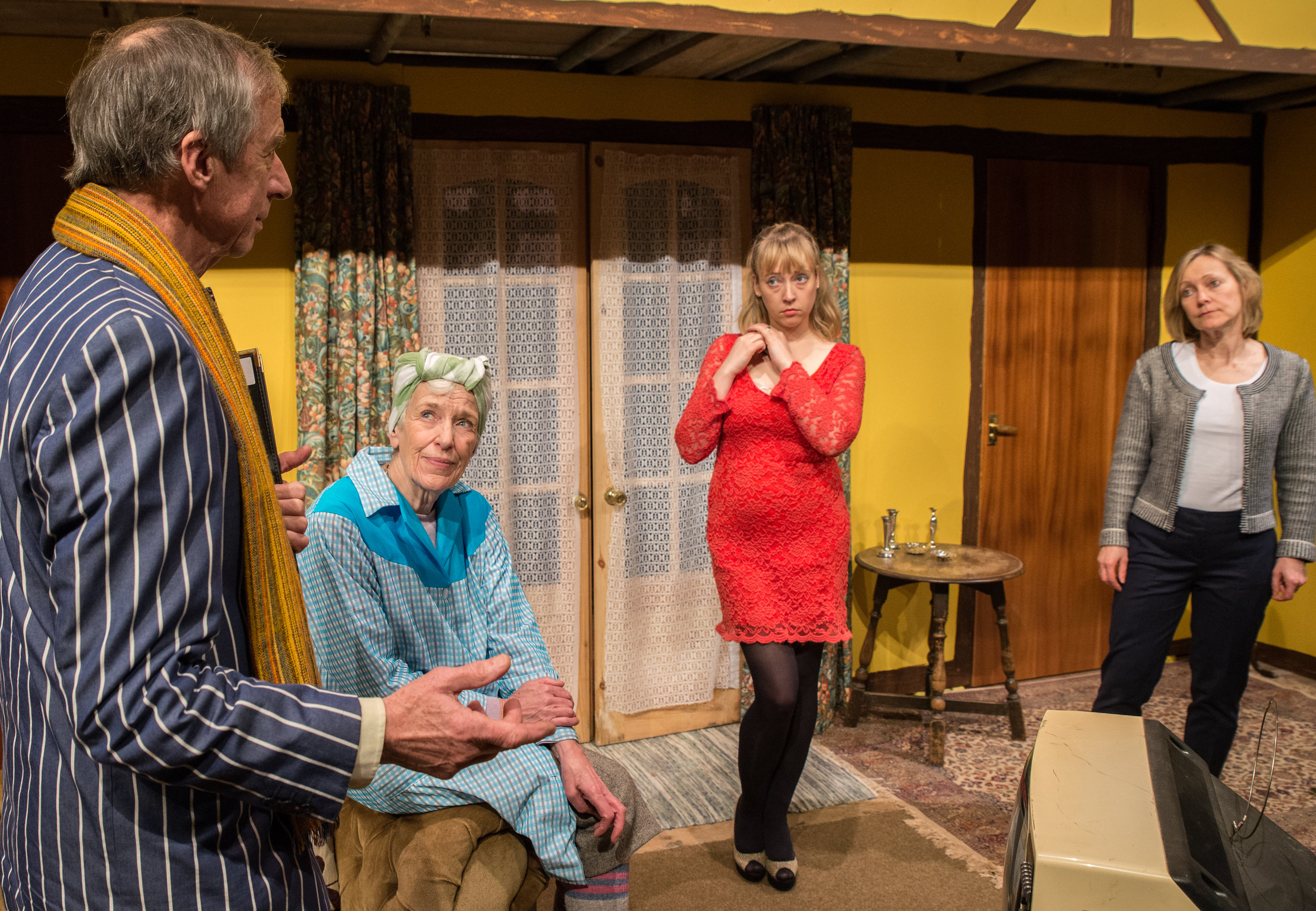 Being a part of the company
Challenging scripts
Exquisite costumes and impressive sets
Collaborations with Next Stage Youth
Biennial tours to The Minack Theatre, Cornwall
Next Stage Theatre Company's 25th Birthday, 18th May 2019
Excitement mounted during the year as Next Stage Theatre Company approached its Silver Anniversary. There were many suggestions as to how this milestone should be marked, but in the end we settled for a show, a book, a bag and a bottle! Everyone involved with Next Stage wanted the company's birthday to be special in order to celebrate the talent, professionalism and dedication of the many Next Stagers whose work over the years has helped us to become one of the leading non-professional theatre companies in the UK.
It all seems a far cry from 18th May 1994 when we nervously approached our very first opening night with Educating Rita. There were just 10 people in Next Stage at that time and none of us had any idea of the very big adventure upon which we were embarking. Saturday night, 18th May 2019 saw nearly all of the original 10 members back together again, listening to Willy Russell's wonderful lines spoken by the eager student, Rita and her world-weary lecturer, Frank:
Frank: Are you suggesting I miss a night at the pub to watch 'The Importance' played by amateurs in a church hall?
Rita: Yeh. Come on - hurry up - I'm dead excited. I've never seen a live play before.
Frank: And there's no guarantee you'll see a 'live' play tonight.
Rita: Why? Just 'cos they're amateurs? Y've gorra give them a chance. They have to learn somewhere. An' they might be good.
Thankfully, in the last 25 years, thousands of people have decided to "miss a night at the pub" in favour of a Next Stage play in a "church hall", or indeed, various regional, national and international theatres including the Minack, the Stephen Joseph, Jermyn Street in London and The Workshop Theatre in New York. Next Stagers have flown the flag for Bath half way round the world and back; have produced nearly 200 plays - many of them Bath premieres; have run a thriving and successful youth company for 11-18 year olds - Next Stage Youth; introduced hundreds of primary and secondary students to the delights of drama; and, in 2005 the Company opened a beautiful community theatre in the centre of the culture-rich city of Bath - The Mission Theatre - a conversion of a 200 year-old Grade II listed chapel.
We are proud of all our achievements and so grateful to everyone who has believed and trusted in us along our 25 year journey. But, most of all, we are proud of the 'family' we have created - the hundreds of Next Stagers whose friendship we enjoy and whose considerable talents we admire. Long may this family continue to thrive and flourish.
In honour of 25 years of theatre excellence, Next Stage Theatre Company has compiled an anniversary book, looking back at its near-200 past productions. It includes memories from current and past members, contributions from Artistic Director, Ann Ellison BEM and Company Director, Andrew Ellison and a Foreword written by the company's Patron Sir Alan Ayckbourn.
Next Stage's Silver Anniversary book is a high-quality, 50 page, full-colour, hardback book - cost £15.
Next Stage's 25th Anniversary tote bag 38 x 42cm 100% cotton - cost £8
Next Stage's 25th Anniversary drinks bottle, aluminium with a 350ml capacity and a twist top - cost £8
Book and bag - £20
Book and bottle - £20
Book, bottle and bag - £25
To purchase a Next Stage Theatre Company 25th Anniversary book or merchandise, contact us on 01225 428600 or email nextstagebath@aol.com.